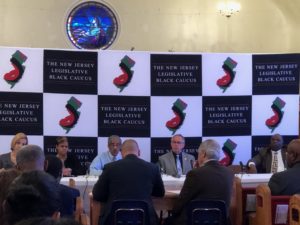 On 4/24/2018, I testified before the NJ Legislative Black Caucus at the Second Baptist Church in Atlantic City, NJ. My written testimony (with ad-libs) is below.
______________________________
There is a long and ugly history of white experts lecturing black leaders. I do not want to have any part of that nasty history. I told my ex-wife that I was speaking before you today, and she said to offer up her condolences and that you should know that even people that love me find that their eyes glaze over when I go on and on.
My name is Frank Greenagel. I have taught at the Rutgers Center of Alcohol Studies since 2008 and at the School of Social Work and the School of Communication since 2011. I have served on the Governor's Council of Drug Abuse and Alcoholism since 2011. I am the supervising therapist at the NJ Recovery High School in Roselle and also Direct the Family Program at College Recovery, a treatment program in New Brunswick. I am a consulting therapist for the NY State Troopers EAP and serve as a Medical Officer in the Pennsylvania Army National Guard. I am the co-chair of the Middlesex County chapter of the National Association of Social Workers, am a member of the National Association of Alcohol and Drug Abuse Counselors and serve as the Public Policy Chair of the NJ Society of Addiction Medicine. I have other jobs and associations, but for the sake of time I won't keep listing them.
I have treated people who have used and abused marijuana since 2004. I have treated both genders, all races, all socioeconomic classes and people aged 13 to 79. I have treated veterans since 2004 and active service members since I was directly commissioned back into the Army in 2014.
I am someone who will make more money if marijuana is legalized in NJ. I will see more patients who have problems caused or exacerbated by their marijuana use, and my trainings for treatment programs and community speeches will be even more in demand. Despite the positive effect that legalization would have on my bank account, and unlike almost everyone else who would profit from the legalization of marijuana, I am completely against the legalization of this dangerous drug.
There are three major arguments that are given by the for-profit marijuana movement.
It is a major revenue source.
It is medicine
Legalization is a civil rights issue and will reduce criminal justice disparities among minorities
I will point out the problems with each argument.
It is a major source of revenue.

Marijuana revenues have increased in Colorado and Washington over the last three years, but the revenues are not nearly as large as California has anticipated. This is partly because the illegal market in California and other states continue to thrive.
Since legalization in Colorado, tax revenue from alcohol and tobacco has decreased. Economists call this an example of a substitute good.
Economists, tax experts, public health officials and governmental bean counters all agree that alcohol and tobacco are revenue negative. For every current dollar that those drugs bring in, they cost between 7 and 10 dollars in the future. This is due to health care and criminal justice costs, which are easily measured. Workplace productivity costs are difficult to measure and family problems and their costs are very hard to measure. If we were able to figure out the workplace and family costs, tobacco and alcohol would be even more revenue negative.
Because of health care costs and legal costs, marijuana is almost certainly a long term source of negative tax revenue. Remember, even with legalization, marijuana crimes will include underage use, public smoking, public intoxication, and drugged driving. Neither the American Government nor the American people seem to have a strong grasp of the concept of negative long term tax revenues.
So-called medical marijuana is taxed at a lower rate than recreational marijuana. In March, Governor Murphy increased the number of diagnoses from 11 to over 30. Those new diagnoses covered included anxiety and chronic pain – both are quite common and are overdiagnosed and overmedicated. This will undercut the revenues brought in from higher taxed recreational marijuana as tens or hundreds of thousands of more people will seek low taxed medical marijuana as an alternative.
Some politicians state that some of the marijuana tax revenue will go towards funding prevention and treatment programs. We heard similar arguments in the 1970s about casino tax revenues going to fund schools statewide and to rebuild Atlantic City's infrastructure. I invite you to walk around outside and see if that promise was kept. I can assure you that most of the casino tax revenue was soon diverted into the general fund. I believe that marijuana tax revenue would similarly be diverted into a general fund. It is a false carrot meant to lull a too-trusting public and our officials into agreeing to this terrible public policy.

It is medicine.

I take no issue with people with AIDS, late stage cancer, or glaucoma that use marijuana to alleviate their symptoms or the side effects of various medications.
I have no problem with the federal government moving marijuana from schedule I to schedule II in order to conduct studies.
There have been almost no worldwide random controlled clinical trials on these 30+ diagnoses that it is approved for in NJ. There have been no RCTs in the USA.
Major arguments about legalization have been made using veterans, and for-profit marijuana advocates love to offer up anecdotal evidence. I have treated hundreds of veterans over the years. I have many stories about veterans whose problems got far worse while using marijuana, including a veteran who recently completed suicide despite taking marijuana to treat his complex trauma. I am a veteran myself and rejoined the Army in 2014 after a 10 year break in service. This is a population that is incredibly important to me, and my actions easily support that claim. The VA reports that over 20% of veterans with a diagnosis of PTSD also have a substance misuse disorder (my experience finds that number to be much higher). Treating people with a substance misuse disorder with a dangerous drug that has not gone through random controlled clinical trials is terrible medical practice. It is the government's duty to protect the public from untested substances falsely labeled as medicine.
Medical professionals do not prescribe marijuana. They recommend it. This is an important manipulation of words. If they prescribed it, they would be liable to malpractice suits. By recommending it, they are not. It seems quite peculiar that people argue that it is medicine but that doctors will not prescribe it.
This talk of both medicalization and legalization has caused a significant problem: it has lessened the stigma associated with marijuana. A Hazelden-Betty Ford poll found that 60% of people aged 18-25 believe that marijuana has no negative impact on the brain. With less stigma comes increased use.

Legalization is a civil rights issue and will reduce criminal justice disparities among minorities

Since legalization in Colorado in 2014, there has been an 8% drop in the arrest rate of whites under 21 for marijuana. Hispanics under 21 have been arrested at a rate 29% higher. Blacks under 21 are arrested 58% more.
There are similar numbers in Washington state as well.
Arrests involving marijuana in Washington DC are way down, but blacks are still arrested at a much higher rate than whites and Hispanics. While it is a good thing that there are fewer arrests, legalization has not changed the racial problems in the criminal justice system.
Tobacco and alcohol are disproportionately sold in and disproportionately affect minority communities. Marijuana stores will almost certainly follow a similar pattern. In Denver, marijuana stores are much more prevalent in minority areas. If marijuana is legalized, I am certain that there will be no stores in Marlboro, Upper Saddle River, Alpine, Tewksbury, Montgomery or Bedminster. I am also certain that there will be a push for stores in Asbury Park, Atlantic City, Newark, Camden, Trenton, Patterson and Jersey City.
Whites supported legalization about 20 points more than blacks in DC. This would be the first Civil Rights Issue that whites were more supportive of then blacks. I can assure you that this is not a Civil Rights Issue, and I strongly believe that calling marijuana a Civil Rights Issue is demeaning.
To be clear: I am opposed to the legalization of marijuana. I am in favor of decriminalization. I believe that any decriminalization (or legalization) bill should include a provision that addresses marijuana arrest records and provides for the release of prisoners who are solely incarcerated for marijuana use or possession, as well as adjusts the sentences of those who got longer sentences because of any historical marijuana convictions. If we lose and recreational marijuana is legalized in NJ, I beg of you to force municipalities to opt-in to growing, producing and selling it rather than make it an opt-out law where it immediately becomes legal in all 565 municipalities.
I really want to thank you all for your service to NJ and for holding these hearings. Thank you so much for patiently allowing me to testify. I am happy to answer any questions now or in the future.