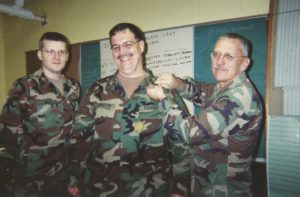 Master Sergeant Greg Spadoni. Served in the United States Army for 35 years. Our time in the NJ Army National Guard lasted from 1996 to 2002. This is a brief tribute that will not nearly say enough about the man.
I met him in September of 1996 when I joined my NJ National Guard Unit, fresh out of Ft. Knox. He introduced himself as a friend of a family friend and told me to find him if I had any questions. "Or if anyone bothers you," he said.
"Why would anyone bother me? We're all in the Army together," I replied.
He knowingly smiled. "Well, just in case."
He was the NCOIC (non-commissioned officer in charge) of the Battalion S-2 (they handle Intelligence). I had been assigned to the Battalion S-3 (training and the Tactical Operations Center (TOC)). Our sections worked very closely, and we usually shared the same tents. Whenever I could, I spent time with him in his section or when he hung around the TOC.
When he wasn't serving in the Army, Greg taught middle school math in Easton, PA. He talked about his students, other teachers, and gave me an entertaining view of what the job was like.
It seemed liked we were always in the field. We camped when it was 30 degrees and when it was 100 degrees. The food was awful. The tents were loud and musty. People got up early. To this day, I'm pretty much ruined for camping. Greg would entertain me with his life's wisdom. He told funny stories. He would bring a piece of carpet and a coffee pot into the field. The carpet was for his feet in the morning and the coffee was for all of us. "Creature comforts, Frankie, creature comforts. It makes all of this easier. Don't forget it."
I haven't.
Eventually, I ran into problems with other soldiers. Sometimes it was busy body NCOs, other times it was officious officers. I occasionally brought some of it on myself, but usually it was those motherfuckers. Greg would step in. Calm things down. Later, he'd say, "Frankie, you can't say stuff like that. You have to go with the flow sometimes."
I would listen to him. You know why? Because he was smart and competent and funny and I knew he cared. He was a great leader.
By the time he retired, he had been an E-8 for 18 years. Years before I joined, he had been the First Sergeant (1SG) of Headquarters Company (HHC). Everyone told me that he was the best 1SG they ever had. He took a lateral assignment as a Master Sergeant (same rank, but he was in charge of six people rather than 150). Whenever we got a new company commander, they inevitably went to Greg and would ask him to move back to the 1SG role. He would say, "I'll do it if you let me kick out 10 people. We have a truck driver that can't drive because of his DWIs. We have all kinds of people that shouldn't be here." The Captains always said no, because our unit was always below strength (not enough people). Later, he would tell me, "I can be in charge of you or 150 people. Being in charge of you is a better job."
The first photo is from November of 2001. Our unit had been activated after 9/11. Our Battalion was assigned to monitor and guard the Hudson River Crossings (the GW, Lincoln Tunnel, Holland Tunnel and Journal Square in Jersey City). The command center was back in Port Murray. I was tasked around the other crossings for part of it, but I got to spend some time at the command center. Greg was in charge of one of the 12-hour shifts. Being in the TOC exposes you to everything the unit does and the high ranking officers. When VIPs visit, they usually come to the TOC first. Greg was doing such a bang-up job that a colonel came by and pretended to pin an officer rank on him. I insisted on capturing it with a photo. It shows his good humor.
Don't be mistaken though. He could rip people apart. When he was in Cuba in 2004, he was in charge of a Joint Task Force full of Sailors, Airmen and Marines. I heard stories. One time, an E-6 in the Navy gave him some shit about a task and Greg ordered his superior to stand before him at 0600 the next day. Greg tore into him. The Chief Petty Officer was aghast and promised that his sailor would cause no further problems. A Marine colonel heard all of this and came in after the the ass chewing was over. "Jesus, I have never heard anyone rip into people like you. What I don't get is that everyone still loves you."
It's easy. Because he was smart and competent and funny and everyone knew he cared.
Don't worry. He's still alive. This ends well.
I drove out to Easton, PA to see him today (9/11/18). We got lunch. I updated him about my life. We talked about other soldiers and what happened to everyone. We commiserated over the fallen and for those whose families fell apart. We also told jokes and laughed. At one point, Greg looked at me and said, "It's great that you don't have your cell phone out on the table. Everywhere I go, people are on those fucking things."
"I know. Then they wonder why they are isolated and feel bad. Our culture is so fucked up that I'm going to be able to work forever. This is why I drove out here. To talk in person. Nothing beats that."
Then we moved on to other stories. I let out my full throated cackle.
"There it is," he said, "There's that crazy laugh."