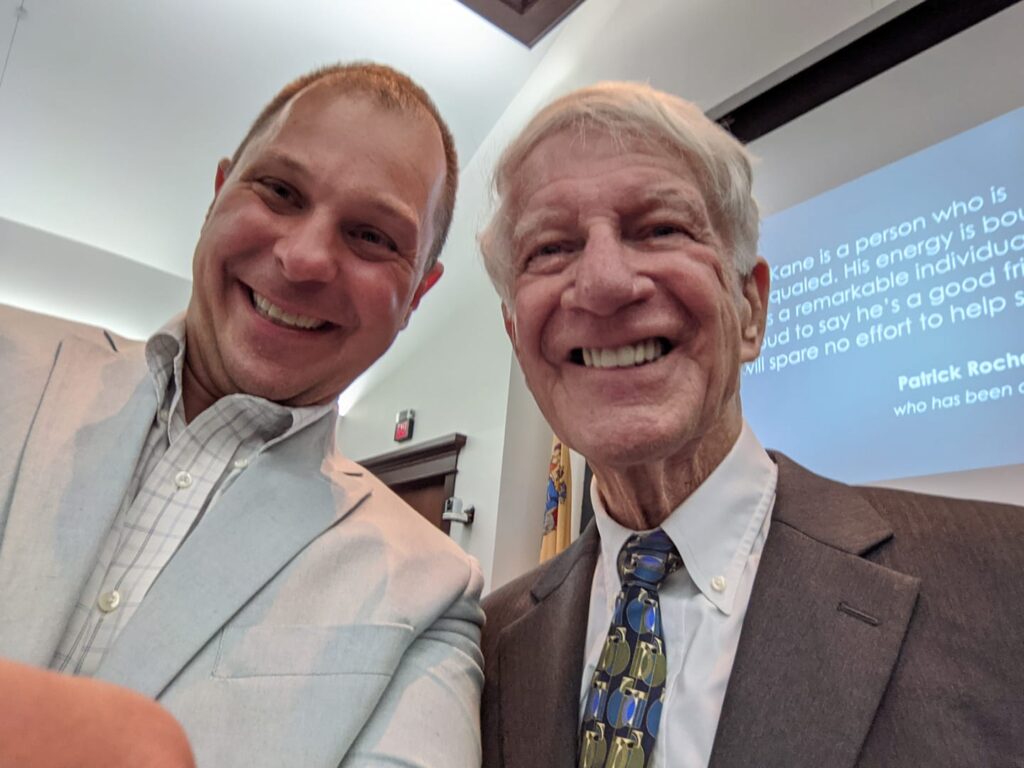 While I was at the Green Day concert on last Sunday in DC, I got an email about Bill Kane's retirement luncheon on August 12th.
I was at the Dodgers games in Philly on 10th and 11th (both rain delays, both victories, both times I got home around 245 am) and had plans to go solo in the 98 degree heat for the final game in the series at 1 pm on the 12th.
I try to avoid luncheons and work meetings and random social invitations. I'm very much of the Larry David mindset for things I don't plan: "No." But Bill Kane's retirement luncheon is something that I could not miss. Thus I skipped the Dodgers game.
Bill was born and raised in Newark. He graduated with an English degree from Seton Hall in 1962. He served in the Peace Corps in Africa for two years before returning to NJ and completing law school in 1969. He got sober in 1979, eventualy earned his alcohol counseling credential and, in his non-legal practice time, helped postal workers and adult men in prison get sober. He eventually turned his eye towards helping other lawyers and established the NJ Lawyers Assistance Program, which he directed from 1993 until today. Anyone who is anyone who counsels lawyers throughout the United States has been trained or taught by Bill Kane.
Bill started teaching at the Rutgers Center of Alcohol Studies in 1981. I took my last three credentialing classes over the course of a week there in the summer of 2006. I had two classes in the morning that were just terrible. I was most displeased. It was 95 degrees out and the afternoon classroom had no air conditioning. Bill walked in wearing a three piece summer suit. I noticed his impeccable fashion, wide smile, and kind eyes, but I was most impressed by the fact that he wasn't sweating.
He asked us a bunch of legal questions that none of us got right. Then he told us at the end of the week we would get them all right. Each day, he gave us loads of information, told funny stories, and adroitly answered questions. In short, he was the best classroom instructor I ever had in the field of alcohol and drug counseling.
When I became an instructor in the program in 2007, I was most proud to be a fellow faculty member with Bill. What made it even more special was that Bill welcomed me to the faculty and gave me a hearty congratulations. It felt like I had made it.
Over the last 15 years, I have sent my students and interns and supervisees and employees to take his course. "He's the best teacher at the Center of Alcohol Studies," I always told them.
That was often met by one of my students responding, "I thought you were the best teacher here."
And I'd laugh and say, completely seriously, "Not until Bill retires."
In 2012 I was named the Chairman of the NJ Heroin and Opiate Task Force. Eric Arauz was the vice-chair (I called him the co-chair though). The first three people we picked for the Task Force were Gov McGreevey, Dr. Lou Baxter, and Bill Kane.
Governor Christie's office put a bunch of government lawyers on the Task Force. A couple were great; others resisted some of my criticisms of treatment programs, insurance companies, doctors, law enforcement, and Big Pharma. Because of money and political power. They would cite some statute or ruling as a way of resisting a new program or legal change. Bill would chime in and say, "That is not entirely correct." That was his way of saying they were completely wrong. Then he would cite caselaw and name the law by letter, number and year. This happened a few dozen times. On each occasion, I would fold my arms, smile, lean back in my chair, look around and say, "That's why I brought my own fucking lawyer."
One time, one of Governor Christie's people said something about a law involving school counselors. "That is not entirely correct," Bill responded.
"How do you know that?" smugly replied the Christie stooge.
"I helped write the law back in 1987," Bill responded.
Eric smiled, and tried to protect the other lawyer's humiliation, "Well, that answers that." But it was a complete and total smackdown. But in a gentlemanly way. My guy.
I gave a speech about Bill at the luncheon and told those and other stories. I could have gone on and on. Bill has worked as a lawyer for 52 years, been sober for 42 years, and has worked in the helping profession for 40. I have never come across anyone who had something bad to say about him. He made no enemies. And I am but one of thousands of admirers and people he has directly touched. Bill is an icon and a role model for me. I'm not a snappy dresser, I curse a lot, and I seem to collect a new enemy each year. So we have some different methods, but man, I dig his style.
I admire his fire, longevity, impact, and the joy with which he works. His retirement is a loss for the field, the legal profession, and the public. Make no mistake about that. But he has left an impressive legacy and a workforce than can carry on his teachings and values. And the man deserves some down time. So, I'm incredibly happy for him.
But I'm still going to call him with legal questions.
Salut, Bill. You're a fucking legend.