"The only church that truly feeds the soul, day in, day out, is the Church of Baseball."  — Annie Savoy, Bull Durham 1988
It began in childhood.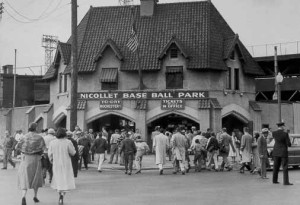 My father grew up in Minneapolis. In the 1950s, the Minneapolis Millers were the farm club of the New York Giants. My Dad saw a number of Giant greats (including Willie Mays and Orlando Cepeda) play while they were still minor leaguers, so naturally, he became a Giants fan. His father was also from Minnesota, but became a Yankee fan in the 1920s because of the prowess of Babe Ruth.  When the Washington Senators moved to Minnesota and became the Twins before the 1961 season, my father's allegiance became a bit divided. I was born in 1976, and for the first 11 years of my life, my father worked a lot and neither of his baseball teams were local nor any good, so I don't recall him watching games.
We lived next door to my grandparent's farm. Gram was a Yankee fan, but she watched the Mets too. I remember her cheering when the Mets beat the Astros in extra innings in clinch the NLCS in six games (thus avoiding the dreaded, beastly Mike Scott, who almost surely would have shut out the 108-win Mets in the winner-take-all game seven). My grandfather did not follow either of the local teams. For years, he had been a Yankee fan but grew disgusted with the team in the 60s and 70s when players like Reggie Jackson talked about how great they were. Pop switched teams and began to follow the underdog Phillies. He particularly liked the humble, work-man like Mike Schmidt.
The first baseball game I remember watching with my father was Game Six of the 1986 World Series. We had spent the day at the Hunt Meet, a series of horse races that were held in Somerset County each fall. He had a few friends over, and they talked about how they had to see Boston finally win the World Series. When I asked him why it was a big deal, he said that the last time the Red Sox won was when his father was younger than I was. When the Red Sox lost, one of my Dad's friends expressed frustration and I said, "They can still win in Game Seven." He looked at me and muttered that the series was over. The day after the Mets won, a number of kids in my school were celebrating too much and in too annoying a fashion. I decided I did not like the Mets, regardless that they won 108 games in the regular season, had exciting young players, were a dynasty in the making and had just beaten the Red Sox in the World Series.
In 1987, I cheered along with my Dad as the Twins upset a strong Detroit team in the playoffs and went on to beat Ozzie Smith and the Cardinals in the World Series in seven games. The next spring, I convinced my friend Damon that we should play little league, despite that we had never played baseball before and that at age 12 and almost 12 (my birthday is in May), we were starting quite late. Damon could hit and hit for power. I hit .200 and couldn't field, but loved taking walks (12 year-olds have shit for command) and I stole bases every time I made it to first. At that point, I had just started watching baseball, had chosen the Yankees, and my favorite player was Rickey Henderson (which is both cool and embarrassing). The Yankees were good but not great, couldn't win the division and were in the shadow of the Mets and their annoying fans. I learned about the Yankees history and clung to their past era of greatness as a promise of future returns. That spring, our little league coach organized a trip to see the Phillies host the Cardinals at Veterans Stadium. I was told to watch the Cardinals shortstop. The men seemed so small from our seats, but it was fun to be at such a big event with all of those people. My father and Pop had come along. That was my first baseball game.
My first Yankee game was in the summer of 1991 (a dark time for the empire). I went with my Mom, Dad and Pop. It was surreal finally seeing something in person that I had watched on television for years. I was stunned at the size of the stadium, and found the other people there fascinating. The Yankees lost, which was disappointing, but the overall experience was wonderful. In 1992, I attended a game on my 16th birthday with my father, Pop and my friend Brad Henry. Robin Yount and Paul Molitor homered for the Brewers, Don Mattingly homered for the Yankees, and the Brewers won in 10 innings. There was a middle aged man (50s) who cheered when the Brewers went ahead in the 10th, thus angering others in our section, but I admired how he was willing to oppose everyone around him.
I celebrated other birthdays at a variety of stadiums. In 1999, I took the Denver Greenagel clan to see the Rockies win a 7-6 game in the bottom of the ninth at Coors Field. In 2001, April, my college girlfriend and eventual ex-wife, celebrated my 25th birthday by watching Andy Pettitte outduel David Cone in an emotional game for me. In 2004, my friends and family joined me at Shea as Tom Glavine almost pitched the first no-hitter in Mets history. In 2014, April and I went to Philadelphia to see Clayton Kershaw dominate for the Dodgers.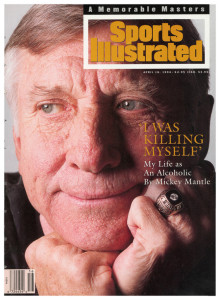 As a teenager I partied a lot, and things got out of hand for a few years. In August of 1995, Mickey Mantle and Jerry Garcia died within a few days of each other. Mantle had gotten sober a year and half earlier but died from decades of alcohol abuse. Garcia overdosed in a hotel room at the age of 53. Both of them weighed heavily on me, and their early ends factored into a decision to turn my life around a few months later.
In 1996, I decided to join the United States Army as a tanker. Before I left for Ft. Knox, I visited my friend Geoff at Boston College in April and bought tickets for all four games of a September Yankee-Red Sox series. I was at Roger Clemens last game as a member of the Red Sox and one of Nomar's first games. I had a number of great conversations with Sox fans that series, and would eventually return to Fenway for over a dozen games the next several years (I attended a 15 inning game in 1997 where I saw a couple get into a horrific drunken fight in the 8th inning and then continue in the 12th where they then agreed to get divorced).
The Yankee dynasty of the late 90s and early 2000s synced perfectly with my college years and my entrance into capable young adulthood. During the six years that followed basic training, I attended community college and then Rutgers. I either listened, watched or attended almost every Yankee game (I also watched the Braves on TBS, the Cubs on WGN and the Mets). There were times that I missed one because of military service or some event, and this being the era before cell phones, I had to go to extraordinary measures to get updated on scores. I attended over 150 home games during those years, was a season ticket holder in 1998 (and took my Dad to the first game of the World Series that year), and was there when President Bush threw a strike before the start of the third game of the 2001 World Series. My Yankees were Paul O'Neill (hardworking and passionate), Bernie Williams (quiet competence and grace), Andy Pettitte (a homegrown lefty who radiated decency), Mariano Rivera (the all-time great who managed to be truly humble), Joe Torre (who managed the Boss and the media with deft aplomb) and Don Zimmer (the baseball lifer who was funny, grandfatherly and wise).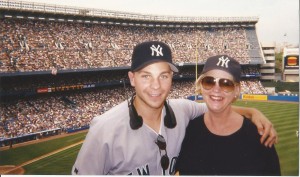 In the late 90s, I started reading the work of Rob Neyer at ESPN. He was a disciple of Bill James, and he steered me onto rigorous baseball analysis and towards better writers. In 1999, he turned me onto Baseball Prospectus, where I started learning from Joe Sheehan, Gary Huckabay, Christina Kahrl, Kevin Goldman, Jay Jaffe and Nate Silver, who would eventually go on to become one of the most accurate political analysts. Their writings on baseball not only caused me to look at the game differently, but think differently too. I have adopted new approaches towards counseling, education and policy as a result of how those writers measured success and transformed my mind through their writing.
I've read over 70 baseball books, including amazing biographies (Sandy Koufax, Joe DiMaggio, Casey Stengel, Mickey Mantle), fantastic first person seasonal stories (Ball Four and the Bronx Zoo) and wonderful tales of interesting teams: the 29 A's, 34 Cardinals, Halberstam's 49 and 64, 97 Marlins, 03 Cardinals, 04 Red Sox, and 2010s Dodgers. I developed an appreciation for other players, managers and franchises. Michael Lewis's Moneyball was published in 2003 and detailed how Billy Beane was able to turn the cash-strapped Oakland A's into a franchise that routinely outshined its larger-market rivals. I was pleased with the 2011 movie of the same name, and happy that Mr. Beane has become more celebrated. But until he wins a World Series title, his genius will continue to be underappreciated (the key problem with measuring success by the results of the postseason instead of the regular season is that randomness and luck play a much greater part in three short playoff series than in a 162 game season). Genius and talent that goes unrecognized or unrewarded bothers me – it's a reason that I ache for Vincent van Gogh's life and am thrilled at Sixto Rodriguez's late success.
Steve Castro, a college buddy from Rutgers, and I drove to Toronto to see the Blue Jays play the Red Sox and Indians over Labor Day in 1998. We stopped at the Anchor Bar in Buffalo to try the first hot wings ever made and then journeyed to Niagra Falls before ending up in Canada. Toronto has the CN Tower, the hockey hall of fame, clean streets, friendly people and good food. I bought a Maple Leafs t-shirt and led fans in chants against the Red Sox on Sunday and then the Indians on Monday (Steve commented that the Boston fans must have been stunned to run into such an aggressive Canadian). We enjoyed the trip so much that we decided that we needed to visit more stadiums.
I attended several spring training games in 1999 with my friend Mike Neilan while on a raucous and driving intensive college spring break trip to Florida. We saw Greg Zaun (a favorite of mine because of his role in the 1997 Marlins book) hit a homerun against the Pirates and I caught a glimpse of Yankee superprospects Nick Johnson and Alfonso Soriano at Legends Field. In Tampa, I talked to four hardcore middle aged Tigers fans whom had been coming to spring training for 20+ years – I admired their passion, friendship and longevity.
In late August of '99, Steve and I drove to Detroit to see Tiger Stadium before it closed. While waiting in line, I talked to a woman who had been attending games since the 1940s. She expressed a love for the city of Detroit, Hal Newhouser and Kirk Gibson. She showed me dozens of pins on her cap and bade me to enjoy my time at "one of the last real ballparks." From there, we drove to Cincinnati where we saw the Braves crush the Reds. We sat in the far upper deck and ended up talking to a man from Houston who was 15 years older than us. We told him that we were driving to St. Louis after the game and that maybe we would head to Texas after. He slapped his knee and said that sounded awesome, expressed some jealousy and told us to continue to enjoy our youth. After the game, we drove to St. Louis. We went up the Arch, bowled at the bowling hall of fame and watched the Cardinal fans gape and yell during every Mark McGwire at-bat. My Mom's second husband had been recently diagnosed with cancer, so we headed home (by way of Baltimore) rather than continue to Houston.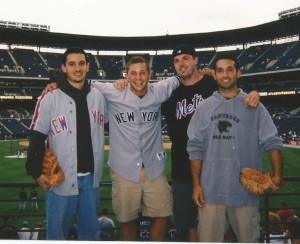 In late September, the Mets had surprised everyone by staying in close contention with the Atlanta Braves. Steve, Mike, our friend Jimmy (all three are Mets fans) left New Brunswick at midnight on 9/21/99 and drove 18 hours to see the first of their three game showdown. Chipper Jones hit a homerun against Rick Reed in the 1st inning for a 1-0 lead and then hit another homerun (from the other side of the plate) off of Cook in the later innings to seal a 2-1 victory. Chipper won the 1999 MVP that year and is probably the player who killed one team more than anyone else. After the loss, we drove home. Mike and Steve were physically exhausted and emotionally devastated. A few hours into the ride home, I tried to console them by saying that they could get them tomorrow. Steve looked at me and said, "The game was a killer. We aren't winning the division."
We drove on through the night and the next morning, and found ourselves in a horrible traffic jam on route 78 East in Pennsylvania. We drove off the road and cut through a field and took back roads into New Jersey. The Mets played well enough the rest of the season to tie the Reds for the wild card. After beating them in a one game playoff behind Al Leiter, the Mets went on to defeat the Diamondbacks and set up a showdown with, of course, the Braves. Atlanta buzz sawed through the first three games and went up 3-0. The Mets won games four and five and I got Steve and his older brother to agree that we would drive to Atlanta for game seven if the Mets were able to eke out game 6. The Mets lost a heartbreaker in the bottom of the 11th inning on a based loaded, walk-off walk by Kenny Rogers.
_________________________________________________________________